Article #14: In Their Eyes - Parenting after Brain Injury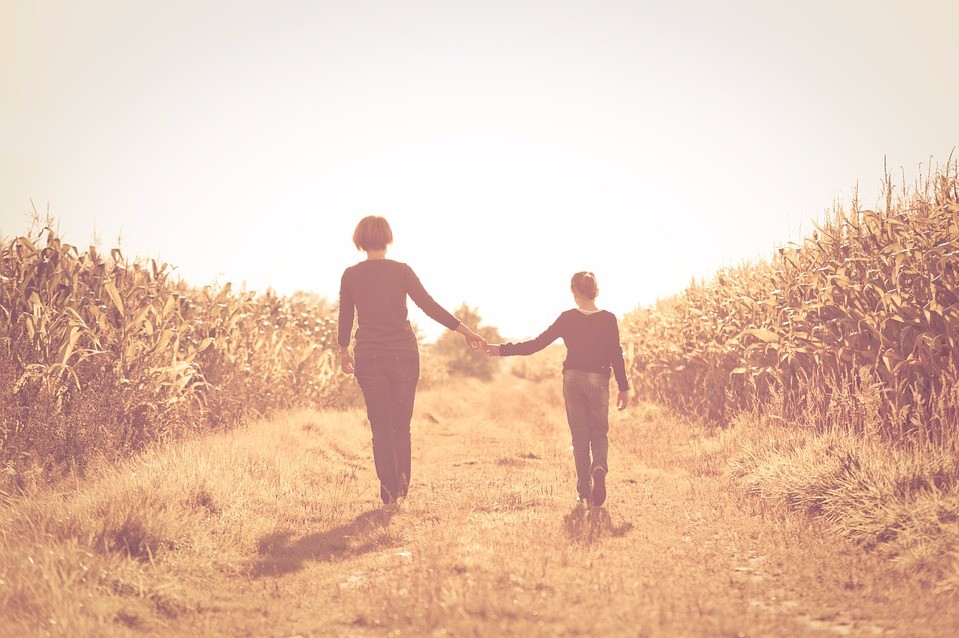 One of life's' greatest gifts has been the opportunity to parent my two daughters. I came very close to losing this gift when I became ill, so not a day goes by that I don't reflect on this fact and count my abundant blessings. Now in their early thirties, my daughters are my heart and soul--a piece of me always in tune with where they are, how they are doing.

Upon waking from the coma after the bleed, my children were the very first things I asked about. I remember seeing them that first time and witnessing the fear and questioning in their young eyes (they were six and three)…how frightening this must have been for them. My head had been shaved, I couldn't walk and I couldn't hold onto a thought for more than two seconds so I was continually repeating myself or asking the same questions over and over. My oldest daughter readily came to me while my youngest held back, not quite sure of whom I was. We had been apart for at least two weeks, during which time they had been shuffled among family and friends—their normal schedules in the wind.

As time progressed, we all adapted and life returned to a new normal. Following six weeks of in-patient rehabilitation, I was released and continued my therapies on an outpatient basis. These sessions continued to be very challenging (picture learning to walk again) and exhausting, but at least I could begin to settle in and adjust to life at home. The kids just seemed to roll with the program, albeit a little more serious and concerned than any child their age normally is. I do think, however, this helped shape them into the kind and compassionate women they are today-- ironically both nurses.

Throughout their childhood I was well aware of my challenges, compared to other mothers who juggled careers in addition to parenting, but I don't think my kids had that same awareness. To them I was just mom. They were so young when I got sick, that they really never knew the "old me". For this I have regrets but I am eternally grateful that I was "around" to bear witness and watch them grow and mature with my own eyes.

During their grade school and middle school years, I was able to assist in their classrooms a few times a week, along with taking an active role in their Brownies and Girl Scouts troupes. As they aged into adolescence and their circle of friends widened, so too did their interests and love for the outdoors. They both started working as wild land firefighters in the summer months, and became passionate climbers and trekkers, along with many other outdoor pursuits. I always felt some degree of regret about not being able to join them in their passions, but was always aware and grateful that I was even there to enjoy their accomplishments and pursuits through their eyes-the next best thing!

Emotions that have surfaced in recent years are feelings of remorse regarding my inability to easily recall actions, phrases, behaviors and stories from my kids' childhood. I feel responsible as their mother to be the "keeper of the flame", so to speak and due to my challenges I feel many of these memories have been lost. Another issue that continues to resonate with me today, though much less often, pertains to my credibility when I am taken to task for relaying incorrect information, skewed interpretations, or misunderstood body language. Generally speaking, the girls are patient and kind, but occasionally they lose their patience with my "swiss cheese" memory and me. To be expected, I'm sure! While my daughters could have used my deficit to their advantage, in terms of getting away with "things" in their youth, I don't believe either child was ever that calculating?

Like many other parents, I learned the value of self-care in order to be the "best me" I could be for my children—which In my case involved daily exercises and stretching to keep me limber, as well as daily naps when needed. I know this involved a great deal of understanding and patience from my kids through the years, but I rarely heard them complain. They loved and continue to love being together, and share a unique bond that was forged at an early age to weather the sometimes unpredictable nature of our lives. Today, both of my daughters are married and looking forward to starting families of their own, essentially closing the circle of their generation and starting anew.