The National Collaborative on Children's Brain Injury (NCCBI) is a national cooperative working to improve services and supports for children with brain injury.  NCCBI's current focus is on improving educational services for students with TBI.
Members of the NCCBI include:
State Department of Education staff who provide statewide leadership and coordination of services for students with brain injury

Administration for Community Living (ACL) TBI grant recipients who work closely with their state Departments of Education

Pediatric brain injury researchers

National Association of State Head Injury Administrators (NASHIA) members

Brain Injury Association of America (BIAA) members

United States Brain Injury Alliance (USBIA) members

Representatives from both the ACL TBI Program and the National Institute of Disability, Independent Living, and Rehabilitation Research (NIDILRR)

Family members of individuals with brain injury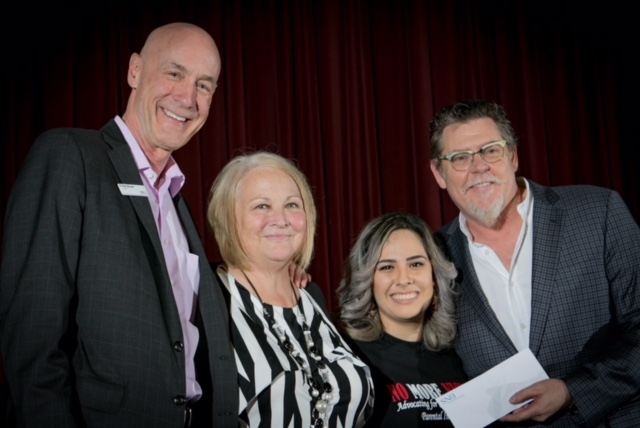 North American Brain Injury Society Administration Team Members Ginger Vazquez and Chas  Haynes present a check for $700 to Cherish our Children Chairman Rob Wisner and No More Victims Director Marilyn Gambrell, to assist children with incarcerated parents who still suffer from the storms effects. Funds were collected during the joint conference with the National Collaborative on Children's Brain Injury, held March 14-19, 2018, in Houston, Texas. 
The goals of the NCCBI are to:
Identify critical gaps in educational services,

Make policy and research recommendations, and

Share information, tools, and resources on supports for children with TBI in the school setting.
This CoP, created by NCCBI, is a nationwide interactive online resource community designed for those currently working in the field of education and brain injuries. The purpose of the site is to share ideas, discuss issues, and generate strategies for those who educate, advocate for, and support children and adolescents with brain injury in schools.  
Learn more about NCCBI's work from our recent publications. and presentations. 
Publications: 
Policy Recommendations for School Systems serving Students with Brain Injury
Dettmer, J., Ettel, D., Glang, A., & McAvoy, K. (2014). Building statewide infrastructure for effective educational services for students with TBI: Promising practices and recommendations. Journal Of Head Trauma Rehabilitation, 29(3), 224-232. Abstract   
Ettel, D., Glang, A. E., Todis, B., & Davies, S. C. (2016). Traumatic brain injury: Persistent misconceptions and knowledge gaps among educators. Exceptionality Education International, 26(1). 1-18. Abstract 

Gioia, G. A., Glang, A. E., Hooper, S. R., & Brown, B. E. (2016). Building statewide infrastructure for the academic support of students with mild traumatic brain injury. Journal of Head Trauma Rehabilitation, 31(6), 397-406. Abstract
Glang, A., Ettel, D., Todis, B., Gordon, W. A., Oswald, J. M., Vaughn, S. L., ... & Brown, M. (2015). Services and supports for students with traumatic brain injury: Survey of state educational agencies. Exceptionality, 23(4), 211-224. Abstract
Presentations: 
International Brain Injury Association 2017 Conference
March 29-April 1, 2017
New Orleans
National Collaborative on Children's Brain Injury 

National Association of State Head Injury Administrators
September 12 – 15, 2016
Columbus, Ohio
National Initiative on Children and Brain Injury