The Center on Brain Injury Research and Training (CBIRT) at the University of Oregon is pleased to announce the appointment of David Kracke, JD, to the position of Brain Injury Advocate-Coordinator. David has extensive experience and familiarity with the fundamental issues facing individuals with brain injury and their families. David has been a member of the Oregon State Bar for 28 years. Prior to assuming his current role, David was a partner at the Nichols Law Group in Portland from 1997-2018. In this position he represented individuals with brain injury in the litigation process. 

The work of the Brain Injury Advocate-Coordinator is supported by CBIRT's recently awarded three-year Mentor State Grant—a cooperative agreement under the Administration for Community Living's (ACL) Traumatic Brain Injury (TBI) State Partnership Program. This program is funded under the Traumatic Brain Injury Act of 2014 (P.L. 113-196). 

The goal of this program is to create and strengthen a system of services and supports that maximizes the independence, well-being, and health of people with TBIs across the lifespan, their family members, and their support networks.

ACL awarded 10 Mentor State Grants to more established states that will maintain and expand their TBI infrastructure, while also mentoring Partner State Grantees, and working together with ACL to create a national, culturally competent, person-centered professional development training infrastructure for TBI service professionals. Oregon was designated as a Mentor State in two areas: Underserved Populations and Return to Learn/Return to Play.  

David has an extensive background working with private and public stakeholder groups in the realm of legislative and policy initiatives. He is a recognized legislative and policy expert in TBI with interests in consumer safety, organized youth sports, education, and social services. David served as a lead author and legislative advocate for the stakeholder-informed efforts to pass concussion-response education laws, including Oregon Revised Statute (ORS) 336.485, ("Max's Law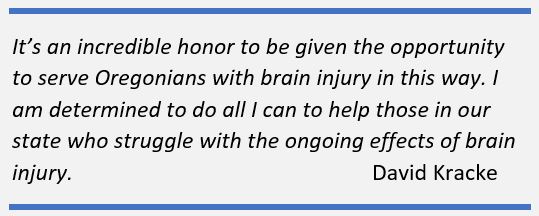 "), one of the nation's first enacted laws establishing concussion protocols for concussed high school athletes and ORS 417.875, ("Jenna's Law), a companion law to Max's Law which provided state-wide concussion protocols for all youth athletes in the state of Oregon regardless of league affiliation. 

David also served as a member of Oregon Governor's Task Force on Traumatic Brain Injury from 2016 –2018.  He is a current member of the Oregon Concussion Awareness and Management Program (OCAMP) and served as a Brain Injury Association/Alliance of Oregon Board Member for 6 years.  

David's new position will serve as the first step toward establishing a permanent Brain Injury Advocate-Coordinator Director for our state. This level of leadership is essential for Oregon to create a coordinated, person-centered system of care for all Oregonians with TBI across the lifespan.

David's strong background in TBI policy and legislative as well as his commitment to serving individuals with TBI—provides him the tools and relationships to succeed in this critical role.  

We are very happy David has agreed to take on this important challenge.