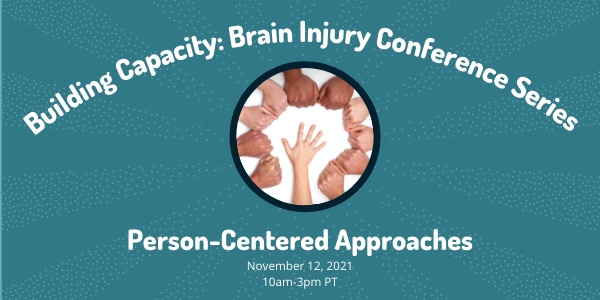 Recordings Now Available!
The Person-Centered Approaches conference was held November 12, 2021. The conference was offered free of charge courtesy of the conference sponsors, the Washington State Department of Social and Health Services, Aging and Long-Term Support Administration and the TBI Council of Washington.
Description
Every brain injury is unique and requires an individualized approach. This conference provided the opportunity for participants to gain an understanding of person-centered approaches across multiple modalities.
Click on the title links to access the recordings.  
November 12, 2021 -- Hosted by Maralise Hood Quan, EJD

10:00-10:05am

Conference opens

10:05-10:30am

Introduction to Person-Centered Approaches
Tim Corey

10:30-10:45am

Stories of Lived Experiences: TBI and Person-Centered Care
Kent Gross and Eric Washington

10:45-11:30am

Person-Centered - Across Faith, Spirituality, Hospice, Palliative Care, Hospitals, and Chaplaincy
Rabbi Rochelle Robins

11:30-12:00pm

Veterans Perspective – Person-Centered Practices and Approaches
Tabitha Dominguez, United States Military Veteran

12:00-12:45pm

A New Path to Brain Injury Care: Neuroplasticity in the Community
Mark Watson, Executive Director and Chief Executive Officer – ABI Wellness – Vancouver, Canada

1:00-1:30pm

Individualized Goal Attainment in Adults with Brain Injury
Tim Feeney, PhD

1:30-2:15pm

Lived Experience Approach
Linda Ishem, PhD

2:15-2:50pm

Panel Discussion: Person-Centered Approaches

Maralise Hood Quan, EJD – Moderator
Previous speakers, Robert McHaney and Amanda Kersey 

2:50-3:00pm

Conference Closes