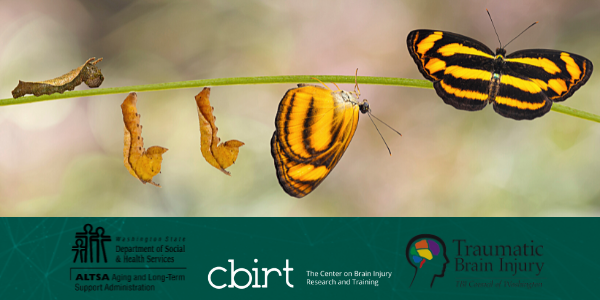 Recordings Now Available!
The Transition and Vocational Rehabilitation Services conference was held January 21, 2022. The conference was offered free of charge courtesy of the conference sponsors, the Washington State Department of Social and Health Services, Aging and Long-Term Support Administration and the TBI Council of Washington.
Description
The uncertainty that comes with leaving the familiar environment of home and high school and navigating the maze of young adult life is intimidating. Helping a student transition from high school to the next stage of their life requires planning and a thorough understanding of the services available to them. This conference aimed to increase participants knowledge of transition services and strategies for supporting students with TBI who are transitioning from high school to adult life. Topics included postsecondary education and vocational rehabilitation services. 
January 21, 2022      10AM-3PM, PT

10:05-10:15

Opening Remarks

Bill Moss, Assistant Secretary DSHS – Aging and Long-Term Support Administration (ALTSA)

10:15-10:45

The Sarah Bellum Model


Rik Lemoncello, PhD, CCC/SLP, Program Director
Brandon Scarth, Volunteer Baker & Sales Person

10:45-12:00

Foundational Community Supports and Other Employment Options for Individuals with TBIs
Michael Corcoran, ALTSA HQ
Jim Bischoff, DSHS Region 1
Ruby Pham, DSHS Region 2
Vicki Gilleg, DSHS Region 3

12:15-12:45

Transition Supports for Youth with Traumatic Brain Injury (TBI) Tania May, EdD
Cinda Johnson, PhD

12:45-1:15

Services Overview and Disability Inclusion Rachael Baur, Business Relations Manager

1:15-2:15

New Transition Opportunities for Youth with Brain Injury
Drew Nagele, PsyD, ABPP, FACRM, CBIST, CESP

2:15-2:45

Panel Discussion
Rik Lemoncello
Michael Corcoran
Tania May
Cinda Johnson
Rachael Baur 
Drew Nagele

2:45-3:00pm

Conference Closes